Name: Ashante Blackwood
Age: 25
Name of Brand: Artistic Lifestyle
Artform: Fine Artist
---
Why do you do what you do?
I've always had a passion for art so to be able to capture and tell my story about the beauty and struggle of my culture in our everyday life was my honour.
---
When did you realize you had a passion for what you do?
I realized my passion for art about 4 years after college when I decided to do art full time, the love and passion I had for art consumed me so much that I had to commit to it full time. I had to devote everything over to my craft and become one.
---
What is your educational background?
I completed a 2 year Digital and Fined Arts Program at Humber
---
What are some of the challenges you faced while trying to pursue your passion?
When I decided to do art full time a lot people told me I shouldn't because I wasn't financially stable and I wouldn't make it as an full time artist. Now those same people purchase my work on the daily.
Since then I've won awards [and] showcased internationally and locally. I [also] sell work to the States daily.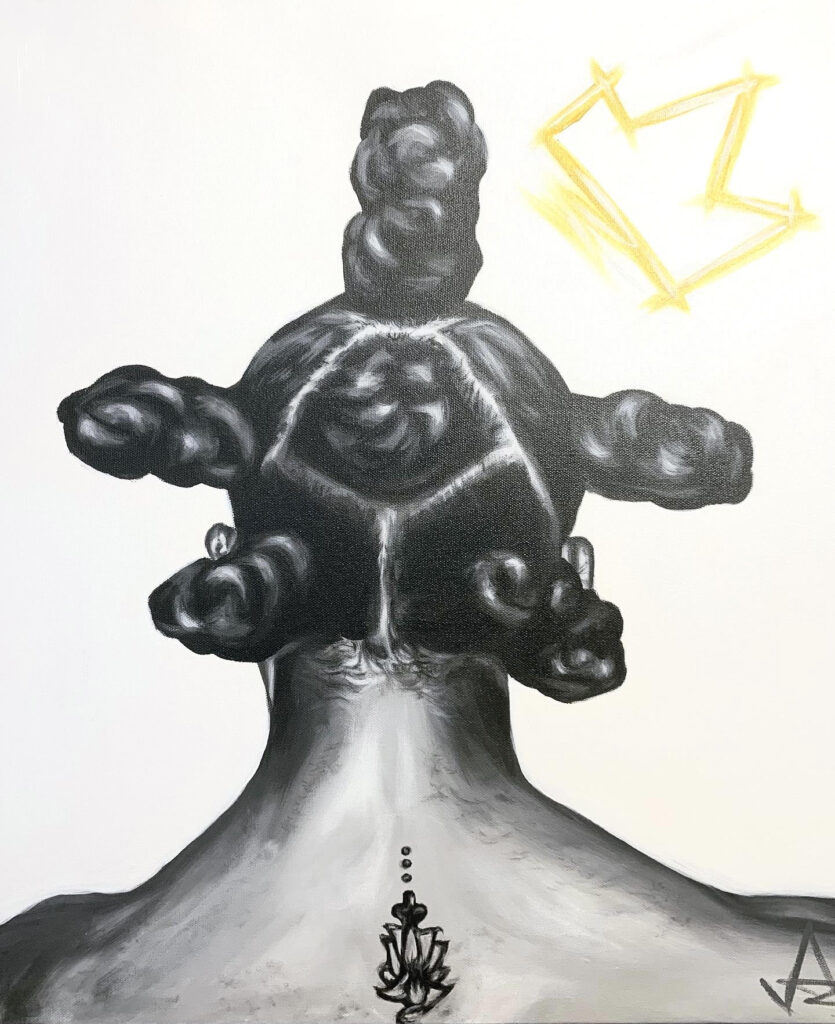 ---
Have you ever encountered people who have been sketical about your dreams and how did you deal with it?
Yes, I've always been a person to prove myself and people wrong when they think I can't do something, because "I can't" isn't in my vocabulary and will never be.
The sky is limit for me.
---
How do you react to those individuals now?
They all purchase my things on the daily now and even come out to all of showcases! I'm a person that doesn't hold on to grudges if my art can connect and is telling your story I've defeated all odds.
---
What are some of the fears you face within your journey today?
As artists the constant fear of failure is always something we struggle with.
[Also there is the] fear of not being a good enough or misunderstood with lack of creativity.
---
How do you deal with those fears?
My room and house are my personal art galleries. [I've] filled [them with] my work so everyday I'm reminded of how talented [I am] as well as how far I've come as an artist so the fear is suppressed.
---
How do you work, what is the method to your "madness" and how do you filter your creativity?
My creativity comes from social media. I follow a lot of other artists and content creators who constantly post powerful or motivational things that fuel my creative energy.
My people are truly my biggest inspiration.
---
What role do your believe the artist has in society?/how do you feel your artform has the power to benefit society/how do wish it would impact society?
My art is a reflection of myself as well as the daily struggle and success my people are going through or overcoming. Being us (artists) has never been easy so when we reach that higher level of power and growth I want to be the one that had a huge hand in that. Our community is filled with so much talent and potential. The day we come together [the world will witness] our magnificence.
---
Out of all your bodies of work which piece resonates with you most?
"Insecure", "Maze Mind" and "Melanin Time" those three pieces told the story of me growing up and the daily struggles I went through as well as the awakening of me – the rebirth of a Queen.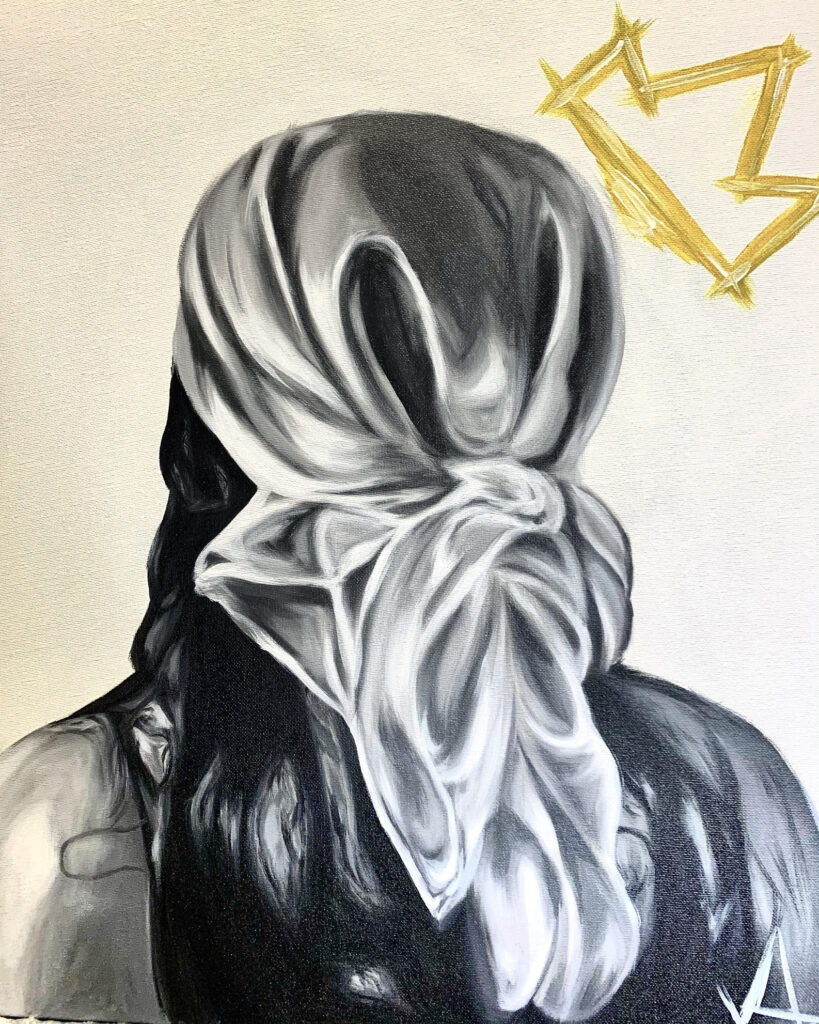 ---
Where do you see yourself going?
I see myself being the Michael Jackson of Art!
I want to be known as the artist that was diverse and multitalented in all aspects of art forms. [My] dream is to own a creative space where all art forms come together as one and change the game, as well as help other artists like me who need a platform to tell their story and grow to their highest level.
---
BY WHAT TERMS DO YOU MEASURE SUCCESS OR PERFECTION? WHEN DO YOU FEEL LIKE YOU CAN SAY THAT YOUR WORK IS FINISHED AND READY TO BE EXPERIENCED BY OTHERS?
When my work is known worldwide and showcased in multiple art galleries around the world and my art has now touched millions!
---
WHAT ELEMENTS OF YOUR CAREER BRING YOU THE MOST STRESS and how do you deal with it?
Honestly, sometimes commissions can be a lot because they can be very stressful because of picky clients as well as I'm a perfectionist when it comes to my work. So being in that element can take a lot out of you but the feeling of when you finish that commission and you see their reaction is the most beautiful and heart warming feelings in the world.
[It is] 100% worth it.
---
THE WORD "UBUNTU" MEANS "I AM BECAUSE WE ARE"; HOW HAVE YOU SEEN THAT REFLECTED IN YOUR OWN LIFE?
Yes, this is legit my work. I am a Queen because we are and will forever be the highest level of royalty in every aspect of life.
My pieces tell that story as well as send that message.
---
WHAT IS SOME ADVICE THAT YOU WOULD GIVE TO ANYONE WHO IS TRYING TO WALK THE SAME PATH AS YOU?
Keep pushing. [It] is a tough road, but nothing is easy in life.
You just have to push through and speak everything into existence.
---
What is something(qoute or reminder) that you live by?
Art has no limitations so why should I?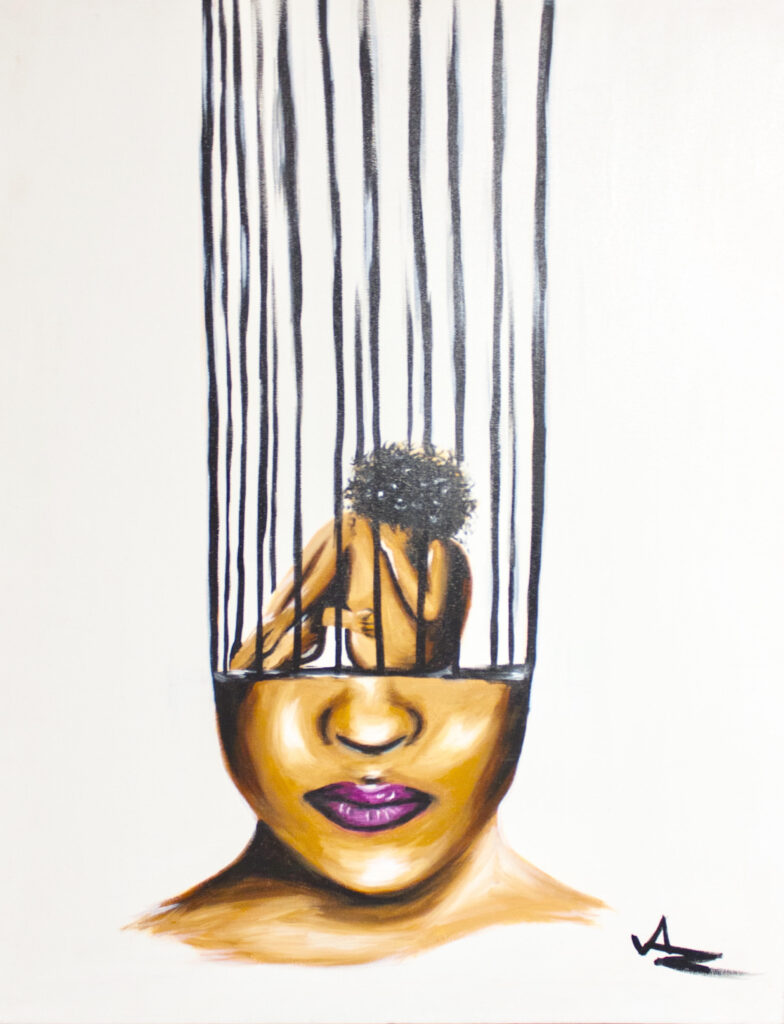 ---
"Art has no limitations so why should I? "
~ Ashante "Artistic Lifestyle 6" Blackwood