The Ubuntu Creative Arts Project & Nobellum Enterprise Applied Arts scholarship was presented to recipient Troy Garcia on Saturday, April 29, 2023 at the Out of Many, One Mural Unveiling at the University of Toronto Scarborough Campus. 
Troy Garcia is an international student from the land of oil and soca, Trinidad and Tobago. Currently completing a masters of architecture course at the McEwen School of Architecture at Laurentian University in Sudbury and working at BJC Architects in Guelph. He is an artist at heart who tries to express creativity and vision through the built and natural environment in hopes of one day giving back to the homeland. 
In Troy's own words: 
"…Through my upbringing In Trinidad, I was especially proficient in both maths and arts, [and] when the idea of architecture as a career was introduced to me, I jumped at the opportunity as this trade provided me a path to begin to give back to my country while also working with my strengths and discovering new ones. 

Through my experiences and schooling in Canada, I was exposed to completely new circumstances in terms of cultures, activities and settings. These experiences and change in culture helped me to find a hybridization in myself where I realised that I have been given the opportunity to act as a medium between societies. I aim to continue learning more about the world, its history, its people and the environment so that I may be able to combine this knowledge with my own experiences growing up in the Caribbean. This helps to create a personal style in each of my art works and architectural projects where there is always a call and representation which leads back to my home…"
---
Images from the Award Presentation: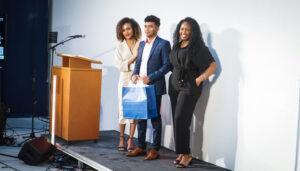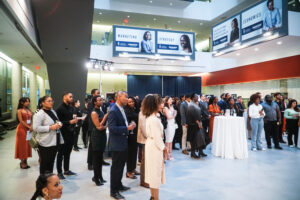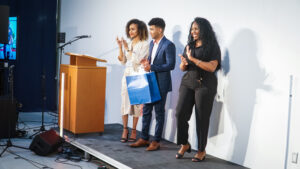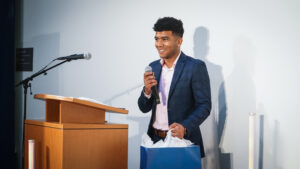 ---
If you or anyone you know is studying are an international student studying in Canada and pursuing a career in the Applied Arts (such as Architecture, Interior Design, Film & Television, Animation, Illustration and so on) please apply!
Applications will be opening in the Fall and you can read more about the criteria here.