Artist's Name: Rachael Connery
Artist's Age: 26
Artform: Photography & Cinematography
Name of Brand: Raey Connery
---
Why do you do what you do?
I've always been a very visual and creative person for as long as I can remember. Growing up, I was always reserved – I didn't express myself much. When I went to high school (big up Knox College!) I slowly started to grow into myself. That's when I started exploring different aspects of art from drawing, mixed media, writing, clothing & textiles etc. Since then I developed a great passion for visual arts which led me to photography.
---
When did you realize a passion for what you do?
In high school, I developed an interest in photography, however, I didn't have the resources to actually practice it. Years later, during my studies at UTech I did a beginner's photography course which was part of their media program. Prior to that, I'd watch photography and videography tutorials on youtube (which were essentially the same things I learned in class) although I still had no equipment. After learning the basics, I started taking random photos with my smartphone which I thoroughly enjoyed. I eventually bought a camera and started practicing. I then realized that I have a special love for fashion photography and the rest is history.
---
What is your educational background?
I have a BA in Communication Arts and Technology with an Advertising Major and Public Relations Minor. As it relates to photography, YouTube is the plug.
---
What are some of the challenges you have faced while trying to pursue your passion?
Oh gosh! So many! Consistency or the lack thereof is my biggest challenge right now. I want to say a lack of opportunities, but if I'm being honest, I haven't been 100% consistent with shooting or sharing my work so that's something I have to work on for myself. I guess the real challenge is balancing my passion with my 9-5. That definitely affects my ability to be consistent.
---
Have you encountered people who have been skeptical about your dreams?
I haven't. As I mentioned before, I haven't been putting myself out there as much as I should, so I haven't encountered any skepticism. My friends and other people who have seen my work are very supportive and encouraging.
---
What are some of the fears you face?
Sigh. Failure for sure. I fear not tapping into my greatest potential. I fear being stuck in the "struggling artist" phase. What I do know is it is up to me to not let that happen and success is within my reach.
---
How do you deal with those fears?
I create. I remind myself of how far I'm coming from and all the growth I've gained along the way. I also go back to the drawing board and figure out what steps I can take towards success.
---
How do you work?
My methods depend on my ideas and inspirations. I'm big on planning so I plan everything down to the T. Whenever I get an idea for a photoshoot I flesh it down in my idea book – concept, look and feel, colours, location, outfits, models, poses, everything. I head over to Pinterest to create my mood boards. After I get all my thoughts together then I scout locations, models and outfits; create call sheets, Google invites, the whole works.
---
How do you feel your art form has the power to benefit society?
A picture is worth a thousand words. Photography affords us memories beyond a thousand lifetimes. It holds our stories, our history, our journeys through life. Having the technology to capture memories – the good, the bad, and in between- is one of the greatest things to happen to society.
A photograph holds evidence of a culture, society, history, from a specific time. Without photography, all we have are our imaginations, and while imaginations are lovely, they don't carry the truth. Photography is the truth of a particular moment in time that cannot be re-lived, and that is very important.
---
Out of all your work, which piece resonates the most with you?
That's hard. I'd say this piece because this is the shot that brought my confidence to the next level. I was very nervous about this shoot. It was my first time shooting with an actual client, the weather was terrible and I had no idea what I was doing. But this specific shot showed me that I can be great. The pose also has this liberation vibe to it too.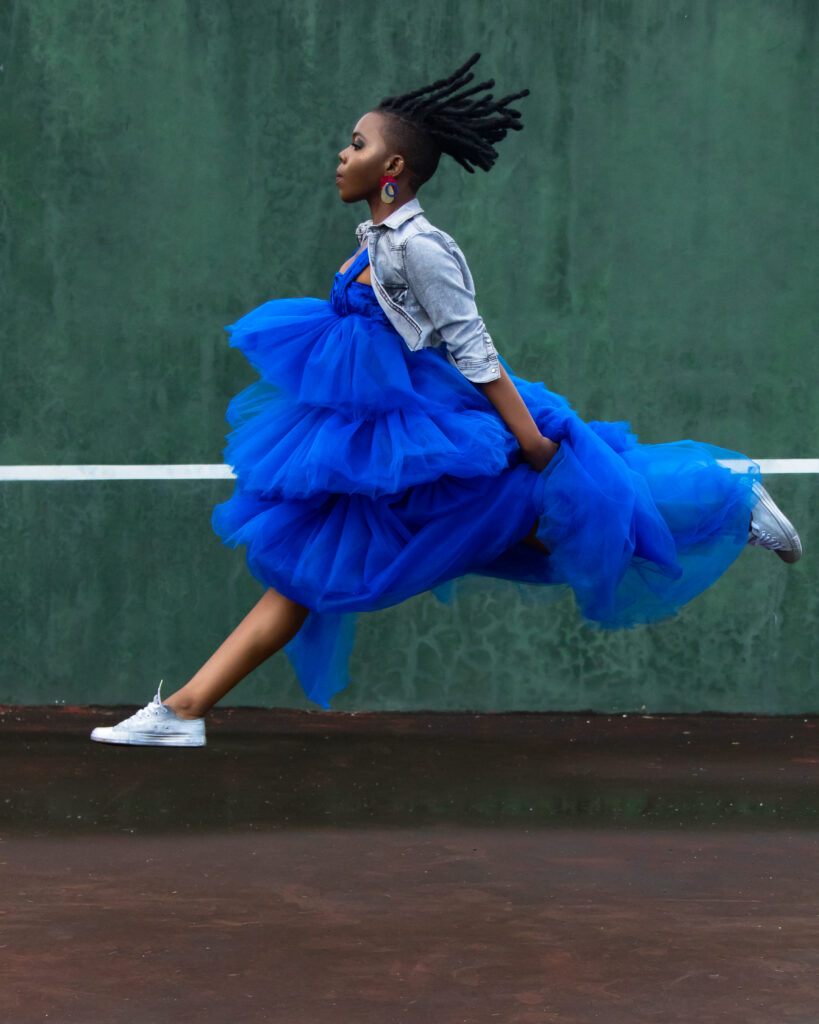 ---
Where do you see yourself going in the future as an artist?
I see myself shooting fashion editorials for international magazines and designers. That's the dream. Tag Vogue lol!
---
By what terms do you measure success or perfection?
That's hard considering I'm a perfectionist and I'm never satisfied. Perfection doesn't exist and we should all accept that. I'm still struggling with this hence why I'm yet to share a great fraction of my work. But when I feel like it's close to what I envisioned. I also like to measure my work based on the last good piece (I'm not sure if that's healthy). I always want to outdo my previous work.
---
What elements of your career bring you the most stress?
I'd say the business aspect. Pricing my services is such a task! You never know if you're undercharging or overcharging. It can be so stressful because there are so many factors to consider. Putting a price tag on your art is a drag.
---
How has another artist or creative supported you to pursue your passion?
Most of my friends and acquaintances are creatives – lucky me. They support me in so many ways, from lending me equipment to constructive criticisms, to referrals, to hyping me up. Getting support from fellow creatives definitely helps to boost your confidence. It's that validation you didn't know you wanted 'til you get it.
---
What is some advice that you would give to anyone who is trying to walk the same path as you?
My advice to upcoming photographers:
1. Just do it. Start where you are with whatever you have even if it's just a smartphone.
2. Research, research and practice, practice, practice! The more you do it, the better you'll become.
3. Don't worry about fancy equipment. Learn the basics and master the basics.
4. PUT YOURSELF OUT THERE! It's hard, but once you do, you'll reap the benefits. Put yourself out there and be confident.
---
"Photography affords us memories beyond a thousand lifetimes. It holds our stories, our history, our journeys through life. Having the technology to capture memories – the good, the bad, and in between- is one of the greatest things to happen to society."
~ Rachael Connery