Artist's Name: Sodanne Browne
Name of Brand: Beam Jamaica
Artform: Dance, Dance Teaching
---
Why do you do what you do? When did you realize a passion for what you do?
I came to realize in 5th form (Grade 11) that dance comes naturally, it wasn't a decision. It was more like an acceptance of something that naturally had to happen.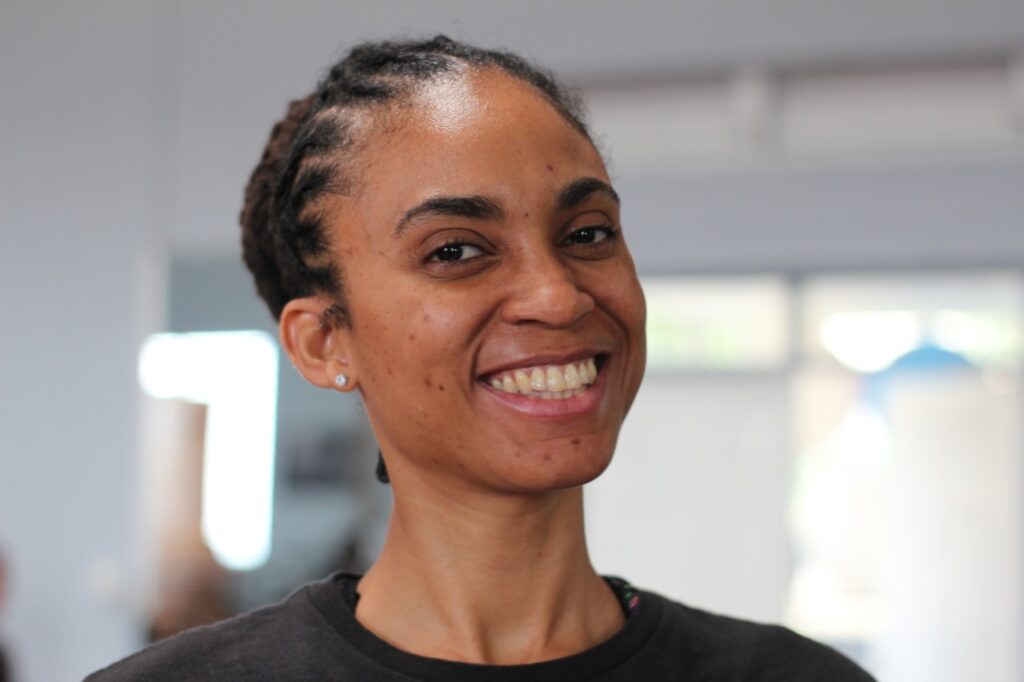 ---
What is your educational background?
I went to Vaz Prep, then Immaculate Conception High school, [and], from there, to Edna Manley College of the Visual and Performing Arts. [There] I did my degree in the Bachelors of Fine Arts in Performance and Choreography.
---
What are some of the challenges that you have faced while trying to pursue your passion?
First of all, it's not an easy career, it's not an easy field of study. It requires so much out of you physically and emotionally and mentally. We have to study theory and everything that other normal people do… [and do] assignments, readings, projects presentations … stuff like that. [However], on top of that, we have to train for a lot of hours … in various dance techniques [while learning dances] from various choreographers. So that takes a lot out of you.
[Furthermore], you have to be really mentally strong to pursue your goals and dreams and desires in this field because many people don't think it's a real profession that you can earn a living from.
There are, of course, financial challenges but I think everyone encounters those. It's just … in this time when a lot of focus and support are given to things like parties and events where there is liquor and that kind of lifestyle … you have to work harder to get support financially like sponsorships from corporate companies to support something where that is not the focus. So to get support for the arts, in general, is a bit of a challenge; but then you also have companies that set out to support that. I've had a set of sponsors that stick with us that have been our sponsors for years and they consistently support our events.
This is not a job you can do if you don't love it because it's really hard. Especially for what I do and the age range that I teach, plus the various personalities [and] the parents that come with the package…
---
Have you encountered people who have been skeptical about your dreams?
I've encountered people who have asked me what I'm going to study to fall back on… suggesting that I can't earn a living doing just this. I think every artist goes through that, especially in Jamaica … maybe it's because we're so much smaller and we have this traditional mindset.
It's actually a family member who stands out in my mind as the person who used to ask if I'm sure I want to do this and "I need something to fall back on."
---
How did you initially react to those people and how do you act towards them now?
I don't remember what my reaction was. It was much younger before I even started Edna … I pretty much just ignored her, because my parents were supportive so I was like "You don't have any say lady, so I'm just gonna do what I'm gonna do."
---
What are some of the fears that you face even today & how do you deal with those fears?
I don't have any fears. Fear is not the word … [maybe] concerns? … I just keep working. My strength is my spirituality. So, if my human brain comes up with something that I should be anxious about or nervous about … I just learned over the years to not be afraid of anything because whatever is going to happen is going to happen and whatever is supposed to happen is supposed to happen so I just trust [God].
---
How do you work? What is the method to your 'madness' and how do you filter your creativity?
Oh my, madness? My inspiration comes a lot from my music. I have a very musical family so I just hear a lot of it …That, and everyday experiences.
I [also] kind of just go with whatever is working … like last year this is not the style I intended to do … but one day I was just like "Ok, you know, I think I'm gonna do this instead, I'm gonna write down all the ideas and look at the cast and see if it can work." Yeah, it's influenced by a lot of things, by who I'm working with and what is going on. Also, we're very seasonal in the performing arts … so if any of [the other companies] were to do the sound of music, I wouldn't do it now.
---
What role do you believe "the artist" has in society? / How do you feel your art form has the power to benefit society?
I think we help to keep people sane. We use it to keep us sane and because we are pretty much all the same, whether or not we realize it, what we are doing helps to keep others in-line. It either keeps them in check by helping to propel them on the right path and inspires them to do something or guides them in the right direction and gives them an outlet for emotional release.
Outside of that, when I started the All Star's initiative, we worked from the mind-set that "being good is commendable, but only when doing good is it useful." So we try to … when we host our productions, give back to others who are less fortunate. So whether it is the Kidney KIDS foundation or car accident victims, we just try to find a way in everything that we're earning to help somebody else.
---
Out of all your work, which piece resonates the most with you?
If I had to choose, what comes to mind is a show we did in 2017 called "Sunset" it was very real. It resonated with the entire cast and we had this one big bonding moment because it was very emotional. Everybody could relate to it in a different way. It was very special.
However, the shows, I believe, are genuine reflections of what is happening in life, my life or maybe somebody close to me at that moment. So they all mean something to me in a different way. I wouldn't say that I have a favourite; some of them I actually like less than all the others maybe just because of different elements of production that I think could have gone better. Overall, they all served their different purposes, they all hold a special place in my heart.
---
Where do you see yourself going?
I don't know enuh, I just want to keep growing.
---
By what terms do you measure success or perfection? When do you feel like you can say that your work is finished and ready to be experienced by others?
I don't think I have an answer for that because it's very hard to control 100 people. So the answer would be something different if [it was just me performing]… I don't think something is ever really perfect, [however] you can be close to perfection.
Something is good enough to be in the show when you don't have to try too hard to do it, it just comes naturally. You've either rehearsed it for a very long time or it just flows out of you like second nature… that's when your audience can relate to you [and] it's not as though you're putting on a show, you [become] the show. That's when I feel most comfortable performing. If I'm not prepared I don't feel ready, I don't feel like it's worthy to be shown. As long as I'm well prepared, I can deliver.
With the job I do now, with all the people, you have to learn to let things be what they are after a certain point. So I've accepted now that the 3 – 6-year olds are going to just be cute cause nothing perfect not happening there, especially because of how the society operates. They're just enrolled in a little extra-curricular dance class and they don't train many hours for the week so you don't have enough time with them to get them to their full potential. So you just work off a cute factor after a while.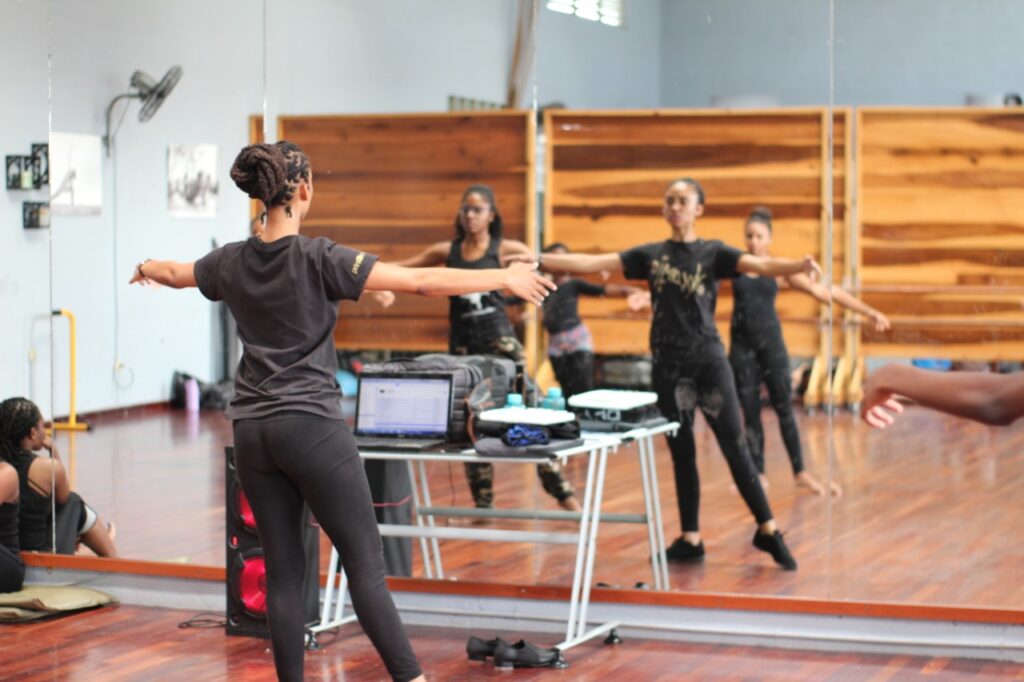 Older than that, you have a number of other factors to deal with like people's work schedule, their school schedule, their natural abilities (who is more flexible and stronger than who)…
So when I feel like something is ready is when the dancers, the performers, have mentally committed to the performance and they have given enough physical attention to what they're doing. So, in rehearsal time, [that means] being on time, warming up properly so their bodies are ready and doing it repeatedly so that it's in their muscle memory and all of that and when they emotionally relate to what they're doing and they go on stage and deliver a great performance. That is hard to come by when it's so many people but it's not impossible.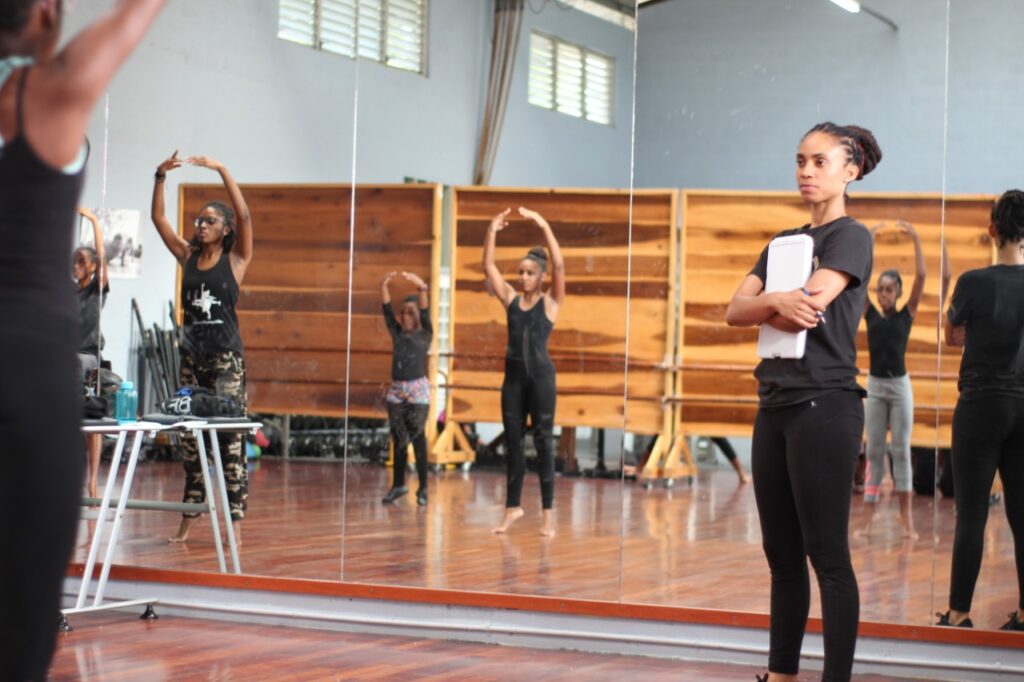 ---
What elements of your career bring you the most stress?
The whole thing … I didn't realize, until recently, that I have a high-stress job because I love it so much. I didn't realize until somebody said it's not normal to have to be repeating yourself so often. It's not normal to have to be talking to people so often and not have them listen to what you're saying. It's a lot of different things, then you have the "magical" costume department when it comes to showtime and just the entire production is entirely different from me just being a dance teacher or a choreographer. [Then], being a producer and a director is a whole other story. The whole thing is high stress, but if you love it, that means nothing to you. You just say "yeah I know it's stressful but I can do it because I wouldn't want to be doing anything else really."
---
The word "Ubuntu" means "I am because we are"; how have you seen that reflected in your own life?
I feel like everybody, all the people I know, have supported this Beam journey. I have a large support system which I'm very grateful for.
---
What is some advice that you would give to anyone who is trying to walk the same path as you?
Make sure you know what you're getting into and you know that this is what you really want you to do because you will be tested … many times. It will be challenging and you have to really know, within yourself, that this is what you want to do. So if you're not doing it for the right reason then don't bother.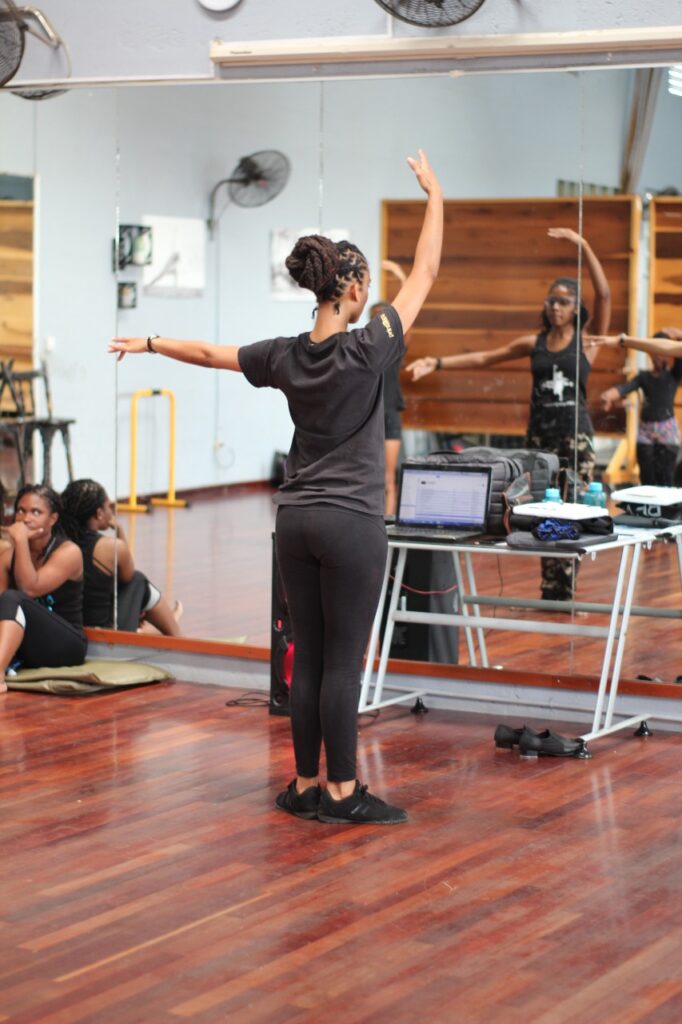 ---
"I think [artists] help to keep people sane. We use it to keep us sane and because we are pretty much all the same, whether or not we realize it, what we are doing helps to keep others in-line. It either keeps them in check by helping to propel them on the right path and inspires them to do something or guides them in the right direction and gives them an outlet for emotional release."
~ Sodanne Browne