Artist's Name: Iman Stewart
Artist's Brand: Iman Stewart Interiors
Artform: Interior Design
Country: Canada & Jamaica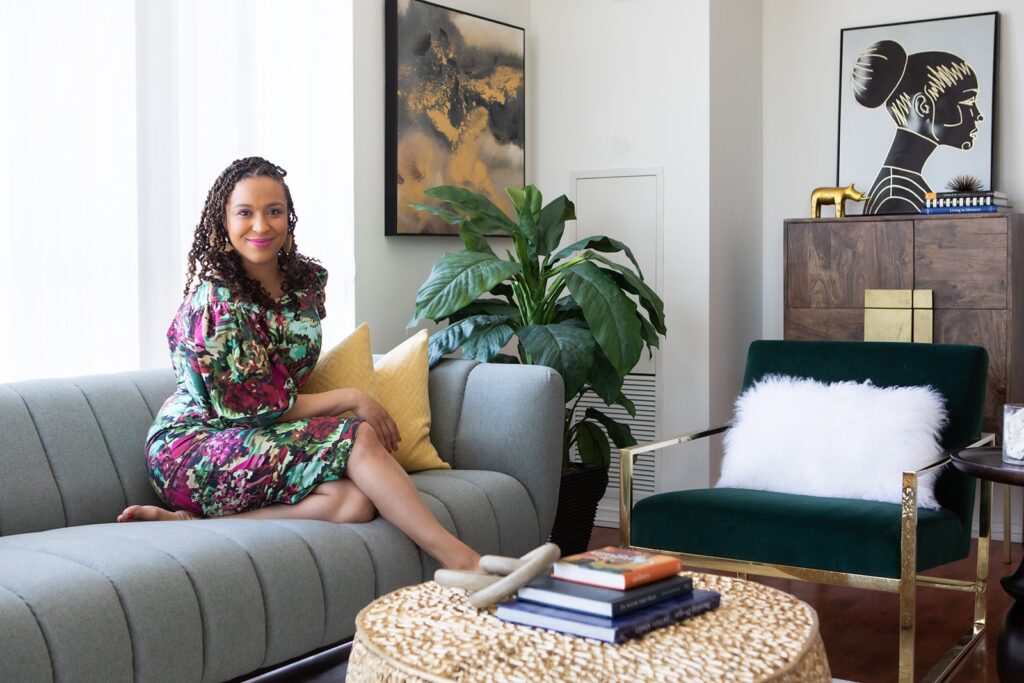 ---
Why do you do what you do? When did you realize a passion for what you do?
I've been interested in Interior Design from an early age. I was the child who was making homes for her dolls. I would cut out shoe boxes and use my mom's left-over scraps to make window curtains. I had a massive armoire and I actually opened the doors, put a string around them with a basket and created a pulley system so they would have an elevator. It was supposed to be for my clothes but it ended up being for my dolls and I just loved it.
I was very artistic and creative and one of my favourite shows growing up as a child was Trading Spaces on HGTV. It was very easy deciding to become an interior designer. I knew that this was the career I wanted to pursue.
When I was a little girl in Grade 6, we had a program called "Junior Achievement" where career representatives would come into the school. I remember looking at all the salaries and I saw $24,000 per year for an Interior Designer. Then I looked at the Doctor salary saw $220,000 per year. I immediately resolved that I'd be the Designer making the Doctor's salary.
---
What is your educational background?
In high school, in Canada, I was an art major. After I graduated from high school, I went to Fanshawe College to study Interior Design. Their program was amazing, we had site visits and all of our professors were industry professionals with their own firms. It was a really good experience.
While I studied there, I did an internship at a Greek modular furniture company as well as a construction company and a tile store.
After graduating, I could have continued and sat my NCIDQ exams but I was more interested in running a design business because people would tell me you can't make money being a designer and I was determined to prove them wrong.
---
When you graduated from College what was that transition like?
After I graduated from Interior Design School, I found a job position at an Interior Design/Furniture Store in Downtown Toronto. Interestingly, the young lady who reached out to me about the position was a year ahead of me at Fanshawe. I absolutely loved the job.
I worked in a beautiful showroom where we got to re-design the rooms once a month with different themes. I loved meeting the clients and I was able to get paid not just as a Junior Designer but also get commission for the furniture I sold. I really enjoyed that environment, it was very true to who I was.
After I worked there for about 2 years, I had a strong desire to move to France. I had my VISA to work, money, everything… However, I decided to go to Montreal instead.
I moved to Quebec and started my design company. I already had a Sole Proprietorship from when I was 18 and in college. I did small design projects in college. My first project was for a member of the African-Canadian Social Development Council.
In Montreal, I was setting up my business, coordinating with vendors and I loved it. However, when the winter hit it was really intense so I moved back to Toronto and started working with a commercial furniture systems company. I loved that I was able to shift from Residential to Commercial and get more experience.
After that, I worked for a high-end Interior Designer in Toronto who's lifestyle I loved! She was really inspirational and I was her Assistant. However, I realized that I wanted to be back out with the people. So I moved to a high-end Italian furniture showroom. I started doing design consulting out of there and then I opened my own corporation. 
That was 7 years ago.
---
What are some of the challenges you faced on this Interior Design journey?
There are many different issues – financial, cultural, and so on.
Firstly, I didn't see anyone who looked like me in the design field. It was very uncomfortable and made me realize that I had to be the trailblazer.
Secondly, finances – not being paid properly for your work and seeing the clients who don't feel the need to pay you. It was an interesting process learning to vet clients.
Going back to when I first said I was going to do this, I remember one day laying in the bathtub and not knowing how I was going to pay my bills. I had just bought a Mercedes Benz and I was talking to one of my former highschool friends about how unsure I was about how I was going to strike out on my own. He ended up loaning me $3000.00 and he said "go and do your thing." That was a HUGE help in my career.
It's always so important who you surround yourself with. Properly curate the people around you.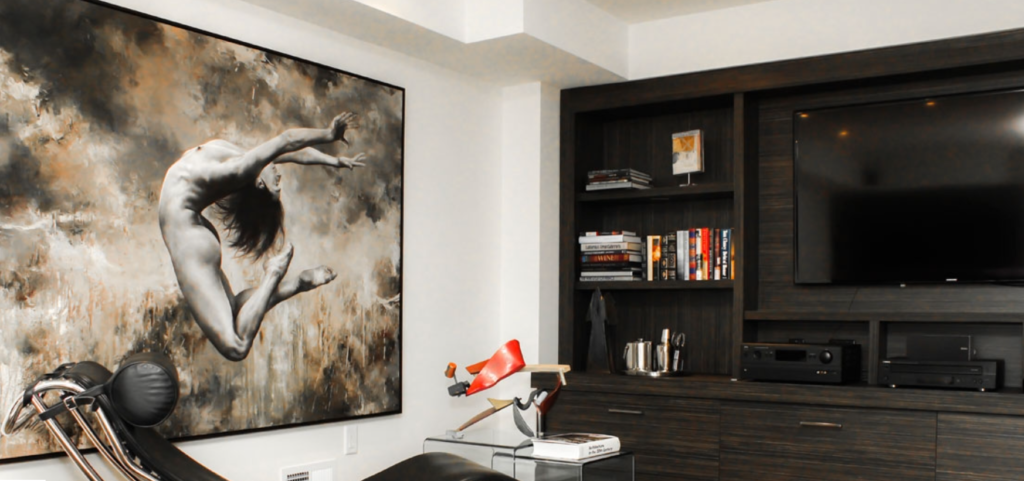 ---
What has it been like working in both Canada and Jamaica?
I grew up in Toronto so I always knew the culture, but I also always felt like I was more than that. Jamaica was my escape… the people looked like me and I could relate with the culture.
While in Canada people would get offended by certain things in Jamaica they'd just shrug it off and be like "nah man yuh good, mi nuh business."
In Jamaica, you are forced to be so much more creative because of the mis-haps that may happen on site. There are also other nuances like language. It definitely keeps you on your toes. There's beauty in the chaos.
---
How have you dealt with people who have been skeptical about your dreams?
I remember having a friend in college whose mother was also in the profession. In high school, I told her that I wanted to be an interior designer and both my friend and her mother said they don't think I'd be a good designer and that I should stick to decorating.
I went through my program and graduated with honours and my friend ended up becoming very wayward. Years later, I was in Ikea and I saw her mom who came up to me and apologized to me saying "I'm so proud of everything you've done."
It's very sad when it's an adult that's belittling you but you cannot let anyone define your life. They can't define anything that's internally you or a part of your purpose. You have to align yourself with your purpose, once you're aligned it doesn't matter what other people say or think.
Sometimes it's also your own family. When I started my corporation my dad was like "What?! Why would you leave these people? you get paid well…" But I had to be free. One day, after having started my business, he went into my car and saw all my fabric samples and said "Now you're a designer."
It doesn't matter who it is, you just have to keep focused on your path.
---
What are some of the fears that you've faced on your journey and how do you deal with those fears?
When you have a company you worry about if you'll be able to take care of everybody. In those moments it's extremely important that you centre yourself and remind yourself that you're doing your best and you're in line with your purpose and you realize how everything works out.
I would say to people, whether you want to be a designer or an entrepreneur, have faith and always bet on yourself. Of course fears arise but it's about how you respond to them. Are you going to panic and freak out or are you going to figure out a solution?
I always loved this quote by Jim Rohn "Don't ask for it to be easier, ask to be better."
---
How do you work and what is the method to your madness? How do you filter your creativity?
I'm a communicator and I'm inspired just by living and by travel … and I have this process in which I will send a sketch to my Junior Designer but then I'll constantly be changing and updating the concept as we speak, which can leave her confused at times. But what I've come to realize is that the development of an idea is improved with verbalization. Words have so much power and sometimes you just have to talk it out and you'll get an answer.
When I first started my design company my three words were: Inspiration – I'm inspired first, Imagination – I can imagine it and Innovation. Those were my 3 pillars. 
My design process is very intuitive. Sometimes, I'll walk into a space and I'll see the design. Other times, I don't visually see it but I feel it and it works out.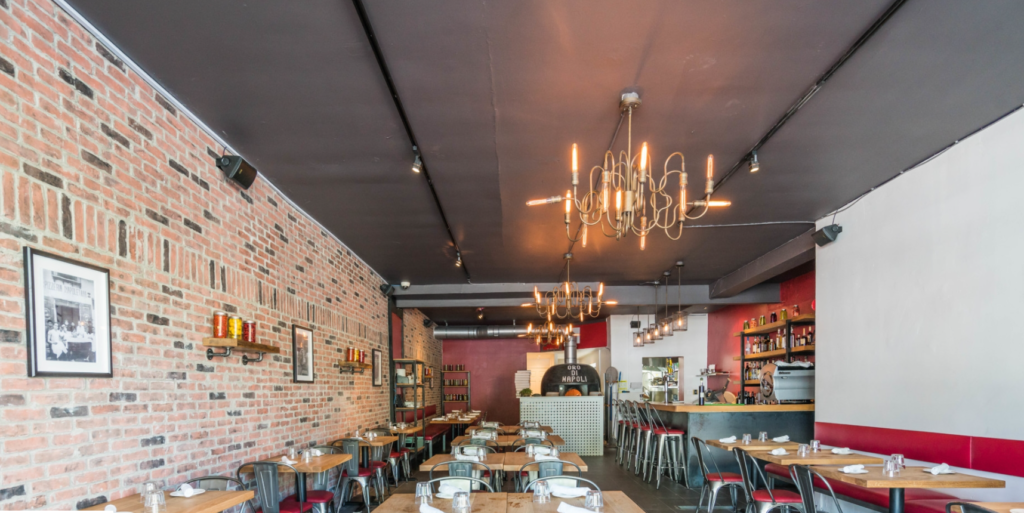 ---
Is there a space that you've done that resonates the most with you?
The project that resonates most with me was Project Rosebank. It was actually a staging job but a lot of people think it was a full interior design project. We had an amazing project team and it was also a "coming into my own" moment. I decided, for the shoot, that I was going to have twists in my hair, I was going to have an African designer dress and really walk in my own truth and image in a loud way.
Where we were staging was actually in a predominantly Indian community and the realtor I worked with said "Iman, it looks like you're catering to one of us… I love it." We only had 3 viewings and the second person signed. That's usually how my staging projects go, we sell under 30 days and that's because I'm aligned. I'm choosing to work with the right people and to use the right skills for this project and conveying how I feel on the inside.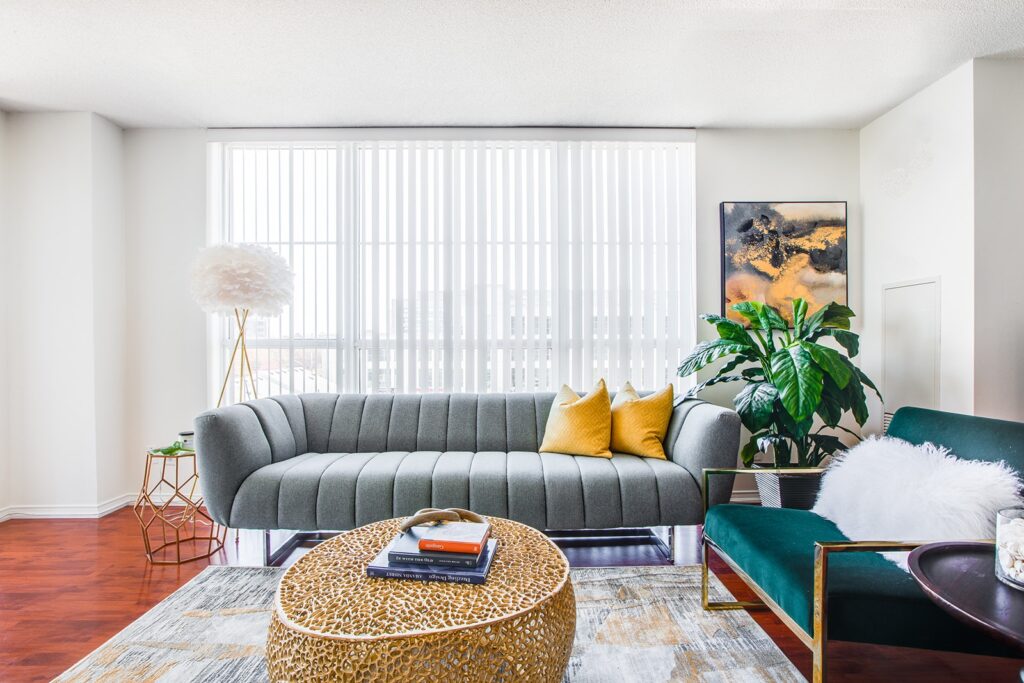 ---
How do you know a project is successful?
Success for a project is when a client is happy and when they've allowed me to be my true self. One project in particular that I felt successful was one I did for the office of the Editor-in-Chief of ByBlacks magazine – Camille Dundas.
This project was a tiny project and she struggled a bit with allowing me to have full control of the design. She had many different styles and eventually she gave in and let me take over. After we completed the project, she left me the most beautiful review:
"Iman is so supportive and creative, I think she's as much of an art therapist as she is a designer! Every single time I was scared to try something, she ALWAYS turned out to be right about the way it would look! Flawless! My advice: listen to literally everything she says! Thanks to Iman, my office is now a true reflection of my personality, profession and culture."
To me that is success.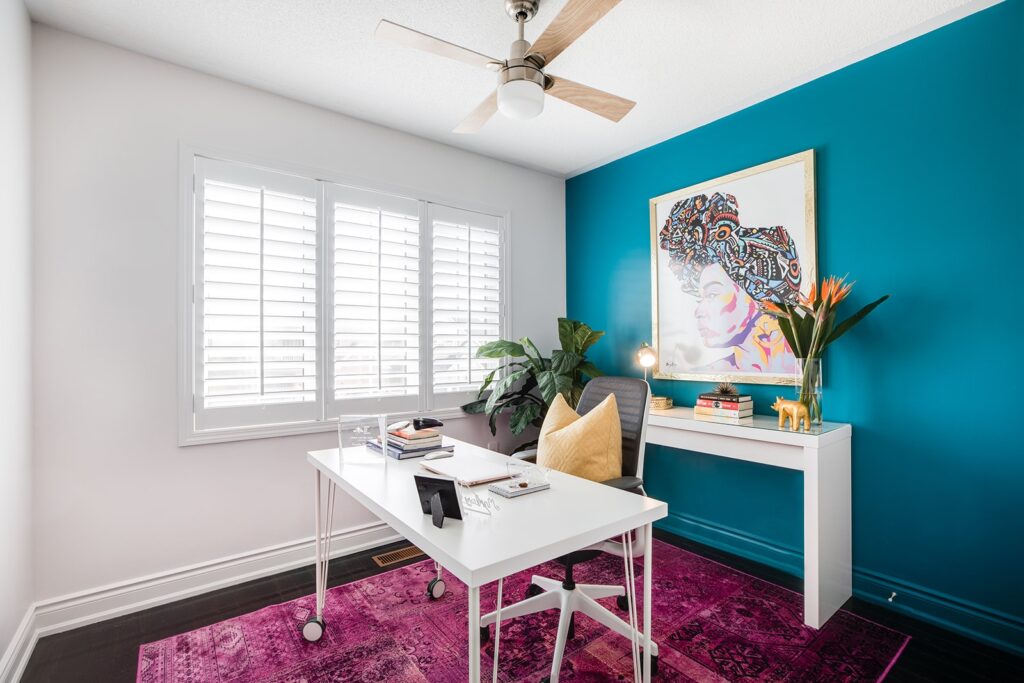 ---
Where do you see yourself going?
I want to be able to connect design to culture on a bigger scale. I want to do work across the Caribbean and Africa and I want to achieve that through developments. I want to be a developer, owning different lots of land but not creating spaces that look the same.
I want to incorporate the culture and the rural aspects. For example, if there is a hill or some natural element I want to celebrate that in my designs and not get rid of it. I want to design in a way that's complementary to the surrounding environment.
I'm also very interested in television and I'd love to have to TV Show that captures my brand's essence and "vibes."
I also would love to own my own paint line and my own a private jet for my clients.
I want big things!! I want to have a massive brand that embodies my lifestyle.
---
How do you feel you're positively impacting society as a designer?
I think Interior Design allows people to connect with themselves and function at a higher capacity. People are able to be inspired by where they live.
The restaurant we just took over needed some renovations. All I did was move around some tables, take off the table cloths, shifted around other things and now people are dining inside where before you would never see that.
The smallest little things can make a big difference and lead to you functioning better in a space and feel like you can relate to it more from a cultural and personal perspective. I always tell my clients "I'm not the one living in the space so it needs to be for you."
---
What is some advice that you would give to someone who is trying to walk a similar path to you?
Bet on yourself, have faith and do the work. Link up with people who share your passions.
Be confident. Looking back at my early career, I knew I loved what I was doing but I just didn't have the confidence. All of those moments in between built that confidence. So keep experiencing, keep interning, keep job shadowing, keep working, keep having faith… Always do things that are aligned to you.
Iman actually means faith.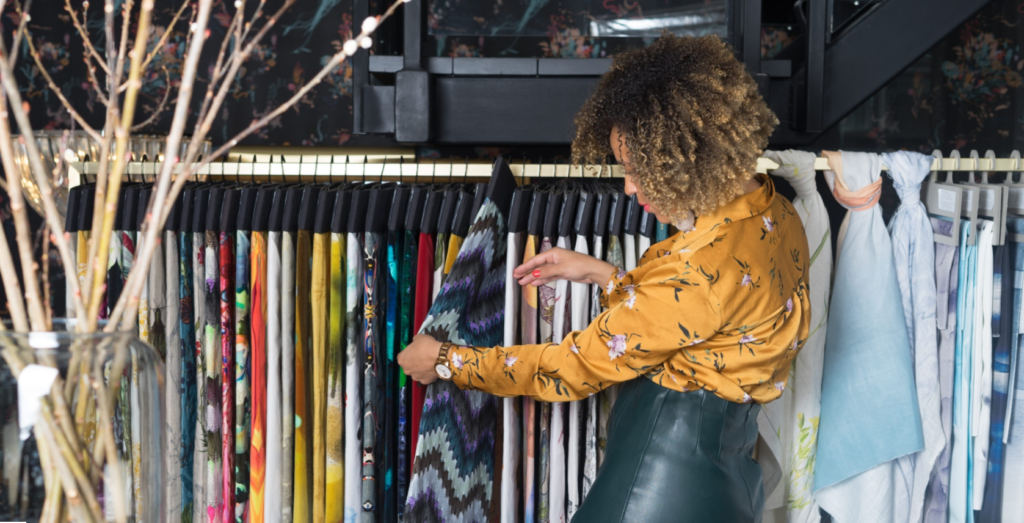 ---
Ubuntu means "I am because we are", what role has your community played in helping you to get to where you are today?
My family, as much as we are each very different, pushed each other to be the best versions of ourselves. My sister really pushed me to be persistent and to work for things, she didn't just give me what I asked for and my parents were supportive of my design career. They paid for my education and gave me that foundation.
There have been other instances where I met people who were aligned with different aspects of my vision and really helped support me in that way. I had a business that wasn't Interior Design, it was called "Find Your Beautiful" and was an online women's talk show and magazine. I was in the background doing business operations and my friend was on the front end doing the interviews. Now I'm in front of the camera and I've realized that, that period was preparing me for what I'm doing now.
"I am because we are" is a very humbling experience. We are a reflection of one another. You feel, I feel, we are connected.
---
"Of course fears arise but it's about how you respond to them. Are you going to panic and freak out or are you going to figure out a solution?"
~ Iman Stewart