Artist's Name: Katrina Abrahams
Name of Brand: Katrina Abrahams Art
Artform: Visual Art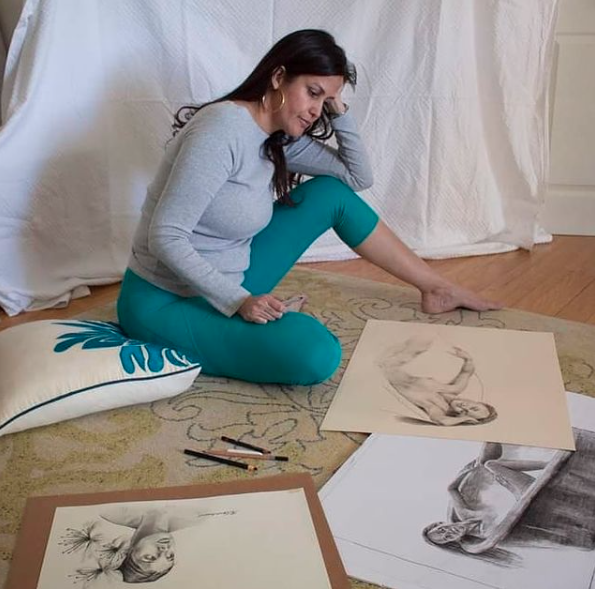 ---
WHY DO YOU DO WHAT YOU DO?
Because it's what I love and it gives me fulfilment and makes me happy to get up in the morning. Before art & design school, I went to Columbia after high school to learn Spanish for a year. When I returned, I got a job with my father's company and I was doing office work and payroll things … my heart was so heavy every Monday morning and during the day I would be so disinterested.
I realized, you have to work for a living but you spend so much time working that you might as well enjoy what you do or else life is going to be so miserable.
Sometimes when I'm in my studio I even forget to have to lunch because I'm so focused and satisfied.
---
WHEN DID YOU REALIZE A PASSION FOR WHAT YOU DO?
I went to Hillel academy. In high school, I realized that I liked art because it was the only subject that I looked forward to with a sigh of relief. I enjoyed it so much that often times I had it right before lunch and if the hour for art wasn't enough for me to complete what they had given us to do I would spend my lunch time in the art room perfecting my piece.
After high school, I went to Columbia on a student exchange program. The first 6 months were spent re-doing the last year of high school so we could learn the language. In the second half, they placed us in a University and told us to choose the field that we wanted to study… That's when I realized that I wanted to go into a creative field.
---
WHAT IS YOUR EDUCATIONAL BACKGROUND?
After high school in Jamaica and the columbian exchange program, I went to Canada to study Design at Humber College before going back to Jamaica and majoring in painting at the Edna Manley College of the Visual and Performing Arts. While there, I was working part-time at Air Canada.
I chose to leave Edna Manley in my 3rd year for various reasons but ultimately because I wasn't liking the structure and environment.
---
HOW HAS ANOTHER ARTIST OR CREATIVE SUPPORTED YOU TO PURSUE YOUR PASSION?
I took a sabbatical from my job to have my very first solo exhibition in 2001 and in 2002 I didn't know who to ask to open my show so I thought about it; I loved Barrington Watson's work and I decided to get his phone number and call him up and ask him if he would open my show… He was probably in his 70's at the time and he said "why don't you come up and visit me?" so I brought my cousin along and we made the trip to his home and studio in St. Thomas.
We just hit it off, he was such an amazing man, a story teller and a people person. He [even] had a hand in founding the art school.
It was like being in the presence of greatness. I began to talk to him about the art school and how I wasn't happy there and he said to me "how are they supposed to teach you, if they themselves haven't been taught properly?" and I looked at him and said "Will you teach me?" to which he replied "I'm 70, and I don't have any time to waste so if you're serious I will teach and if you're not then don't bother waste my time." I told him "I'm serious, I'm serious!!"
He taught me every Monday & Wednesday.
[In addition to leaving Edna] I decided to leave my job at Air Canada and I went out to Barrington's estate. He cleared a garage and gave it to me as my studio and he taught and fed me every Monday and Wednesday for the better part of a year.
He taught me so much, it wasn't just technical or drawing skills. He taught me about the older masters and sometimes we'd just sit and talk. Once I said to him "we're here talking and I should be working in the studio" to which he responded "this is part of it too." It was a part of the learning process.
He didn't charge me a cent. He taught me about colour and even though I did learn about it at my time at Humber College, he taught me about the painterly side of it like using muted tones to push away the background and making your subjects rich to pull them into the foreground.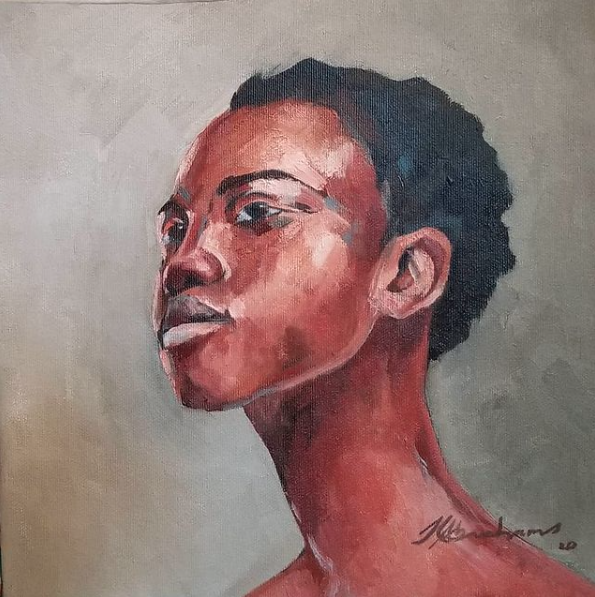 ---
WHAT ARE SOME OF THE CHALLENGES THAT YOU HAVE FACED WHILE TRYING TO PURSUE YOUR PASSION?
The major challenge is not to give up. Some years may not be as lucrative as others and will have you thinking that this road is too difficult to walk. You have to learn to save your money, and how to budget. My experience has been that I can make a lump sum and then not sell for 6 months.
---
HAVE YOU ENCOUNTERED PEOPLE WHO HAVE BEEN SKEPTICAL ABOUT YOUR DREAMS AND HOW DID YOU DEAL WITH IT?
When I came back to Jamaica from the Columbian exchange program, I decided I wanted to study art and my father asked me "How are you going to eat?… How are you going to make it as artist?"
This led me to initially explore interior design. I ended up doing a basic design course at Humber College that had a little bit of everything – graphic design, interior design, package design and so on. The teachers there were very blunt and honest and told us that we had to love whichever field we chose or else we wouldn't excel and make a living. This led me to really think about how I felt about each field.
I didn't love package design because I found it to be very limiting, I was unsure about interior design and wasn't fond of graphic design. I decided to go back to Jamaica and that's when I joined Air Canada while I decided what was going to be next step.
The next step ended up being art school.
When I selling pieces, there was a particular gallery in which the curator's opinion was that my prices were too high and my work was not worth the price as a young artist. She had a painting I had done – a landscape (a garden) and on the tree hung a cow skull. I painted exactly what I saw but she said "that cow skull doesn't belong there." Had I been someone with less backbone I wouldn't have been able to stand up to her criticism.
I was able to have enough courage to have my first solo exhibition thanks to the encouragement of a friend. I was so encouraged by the response that I got, I made a lot of sales – more money in that one show than I did working a year at Air Canada. [My father] eventually came around cause he couldn't believe that I was starting to sell.
---
WHAT ARE SOME OF THE FEARS YOU FACE WITHIN YOUR JOURNEY TODAY?
I am not an extrovert by nature, I had to learn to be one. I don't like speaking in public or being the centre of attention. However, I learnt that you can't make it as an artist if you're not willing to put yourself out there. It was nerve-racking every time I had an end of year show. I wondered what I would say and whether or not people would come and if I would sell anything. I once said to someone, having a show is like standing up completely naked in front of a crowd of strangers because you're vulnerable and open to every comment.
There is also always the fear of not being able to make two ends meet.
---
HOW DO YOU DEAL WITH THOSE FEARS?
My faith in Jesus Christ is what helps me to deal with my fear of not being able to provide for myself. There have been days when I've had all the bills in front of me and I just reached out to Him. He has never let me go hungry, I get through it all with God.
---
HOW DO YOU WORK? WHAT IS THE METHOD TO YOUR 'MADNESS' AND HOW DO YOU FILTER YOUR CREATIVITY?
The process depends on what strikes me at the time. For example, if I see a landscape sometimes I see it literally and sometimes I see it in abstract.
Usually my abstracts are textured, I'll prepare the canvas with sand and texture and then let it dry. After it's finished drying, I'll start to layer in the darks and the lights and the tones and, at the end of it, I decide I'm going to add accents or additional layers.
With my non-commissioned portraits, I wait for a face that's going to attract me. Lighting also plays a key role in a lot of my portraits, I try to understand how light interacts with the skin and facial expression. Last year, I did a very mixed media portrait where I incorporated lace and used that to form parts of the body and painted over it.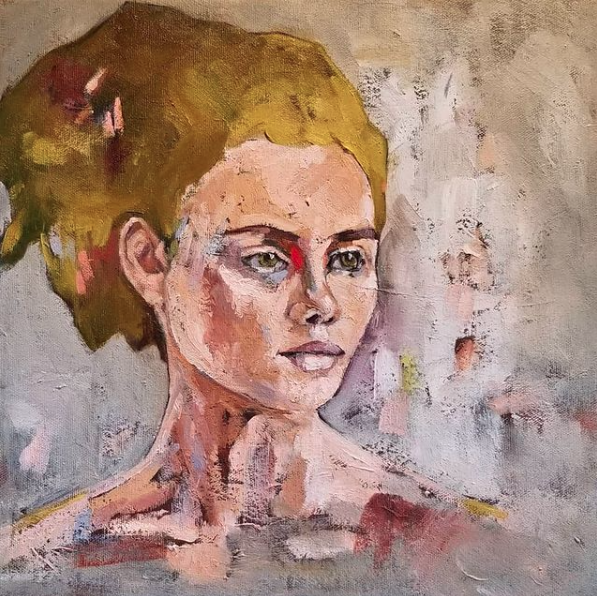 Overall, it's a hard question to answer because I don't start at the same place all the time.
---
WHAT ROLE DO YOU BELIEVE "THE ARTIST" HAS IN SOCIETY AND HOW DO YOU FEEL YOUR ART FORM HAS THE POWER TO BENEFIT SOCIETY?
I choose to incorporate positive elements and elements from my Christian faith like joy and peace into my work. As you can notice, there's a lot of vibrant colour in my work. I think life is hard enough and I choose to focus on that which is positive to bring a breath of joy or a break from reality through my pieces instead of focusing on pain or hardship.
I think that is how my work influences society. I want people to walk away from my work feeling positive. Some artists may think it's shallow but every day life brings its own strife and what you choose to focus on will set the tone for every other aspect of your life. That's why I feel that my art should denote joy and peace because we could do with more of that.
---
OUT OF ALL YOUR WORK, WHICH PIECE RESONATES WITH YOU MOST?
I don't have one, my favourite changes. Barrington gave me a really valid piece of advice. He said "never hold onto your art, because if you hold onto something you will never do anything better." I have had favourites over the years, and I let them go and then I end up doing something that becomes my new favourite.
---
WHERE DO YOU SEE YOURSELF GOING?
God-willing, I will continue to gain North American clientele and I will continue to embrace my Jamaican and Caribbean clientele. I'm working on my website and online presence and I'm learning marketing because it influences your sales and brand.
---
BY WHAT TERMS DO YOU MEASURE SUCCESS OR PERFECTION? WHEN DO YOU FEEL LIKE YOU CAN SAY THAT YOUR WORK IS FINISHED AND READY TO BE EXPERIENCED BY OTHERS?
Sometimes I feel like there is never a piece that is truly finished, but there is danger in that because you can over work it.
I try to ask myself "does it feel complete to me?" "Am I over-stating or understating the subject" "How does it make me feel?" "Is there something in it that distracts me?" If I get to the point where my eye can roam freely across the canvas without being fixated on a certain area, that usually marks completion.
I also very much value second opinions because when you stare at something for long you start to miss the flaws but once you get fresh eyes on it you can get a better sense of any issues or flaws that may be there. So I try to show my work to others.
---
THE WORD "UBUNTU" MEANS "I AM BECAUSE WE ARE"; HOW HAVE YOU SEEN THAT REFLECTED IN YOUR OWN LIFE?
Simply put, if I wasn't supported by my community, I wouldn't have had success.
---
IS THERE A QUOTE THAT YOU LIVE BY?
Matthew 6:34 "So don't worry about tomorrow, for tomorrow will bring its own worries. Today's trouble is enough for today."
---
WHAT IS SOME ADVICE THAT YOU WOULD GIVE TO ANYONE WHO IS TRYING TO WALK THE SAME PATH AS YOU
Make sure this is your passion, because without passion you will NEVER make it. There is no success without passion. Whenever I needed encouragement and reassurance, the only thing outside of God that has been able to keep me going has been my passion for this career. It has pushed me in moments when I questioned my own abilities and success.
Perseverance is also very important. It's a hard market to break into, it isn't just about education, it takes a lot of time and dedication.
When you are an artist you have to have an open mind and be sensitive to the market, don't put yourself in a box.
When pricing your work, price based on your needs. Something that many young artists make the mistake of doing is underpricing themselves when they're down and out in an attempt to sell their work for anything they can sell it for. This devalues them and leads to people waiting until you're hungry and the prices are cheaper before they buy. In these moments, don't be afraid to hold out and find something else to feed you when you're having a lull in sales.
Learning to budget is a huge part of being an artist. You have to try to make a nest egg for yourself and live below your means.
People skills are also important, how you interact with people can determine if they purchase and if they don't.
Most of all, it is definitely worth it because I enjoy waking up in the morning.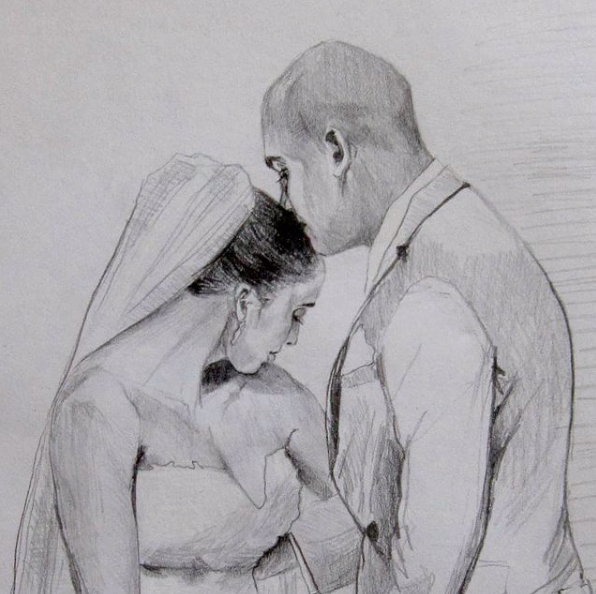 ---
"I feel that my art should denote joy and peace because we could do with more of that."
~ Katrina Abrahams