Artist's Name: Barri Gentles
Age: 25 years old
Artform: Visual Art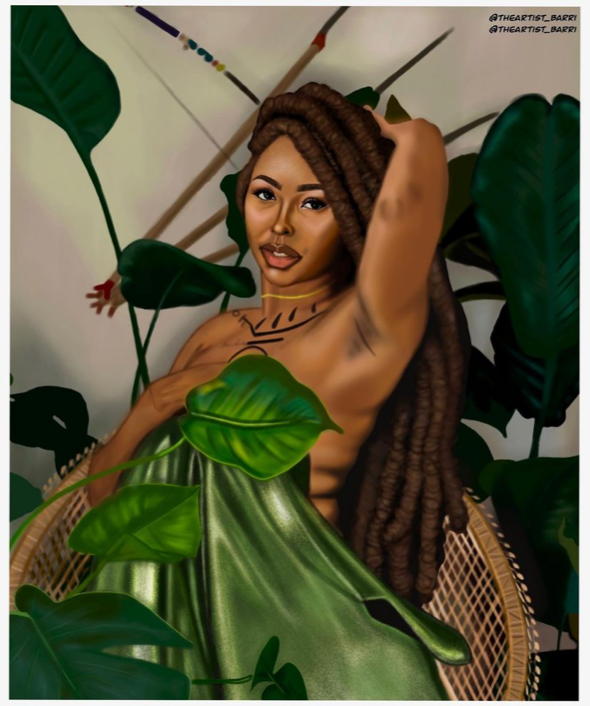 ---
Why do you do what you do?
Simply because I love and enjoy it.
---
When did you realize you had a passion for what you do?
I realized I had a passion for drawing maybe around prep school when all my notebooks were half way full of drawings and barely any notes.
---
What is your educational background?
My educational background includes my high school diploma in Visual and Performing Arts. I also have an Associate Degree in General Construction.
---
What are some of the challenges you faced while trying to pursue your passion?
I recently started putting more time into creating and showcasing my art on media platforms and putting my art and myself out there.
Being raised in Jamaica, a country where they strongly believe in tradition and stability, studying anything in the sciences, business and engineering, is acceptable, but as far as the art industry goes, it is not supported or acknowledged enough. Hence, my biggest challenge was lack of knowledge, support, resources and exposure which all these years had me limiting my mind to all the possibilities.
---
Have you ever encountered people who have been skeptical about your dreams and how did you deal with it?
I have had quite a few people who didn't support my vision and who were indeed skeptical about my dreams.
Fortunately, when you have such passion and love for something, that doesn't change so easily. You have to believe in you and know that you are the only one who can turn your dreams into a reality.
---
How do you react to those individuals now?
I am at a stage in my life, where I'm doing what is right for me, nothing or no one else matters. Though I have been doubted before the progress that I have made is undeniable.
---
What are some of the fears you face within your journey today?
Being a new artist and currently taking commissions and working on other little projects, the biggest thing that I doubt is myself and I tend to lose motivation, which often times leads to me self sabotaging very good opportunities fearing that I will fail.
---
How do you deal with those fears?
Practicing different techniques, using different pencils, and just being consistent in learning and progressing helps to build a bit of control and confidence in knowing that you can get it done.
---
How do you work, what is the method to your "madness" and how do you filter your creativity?
My state of mind and my energy is what I work with when creating, whenever I am in the mood and feeling inspired is when I produce some of my best pieces.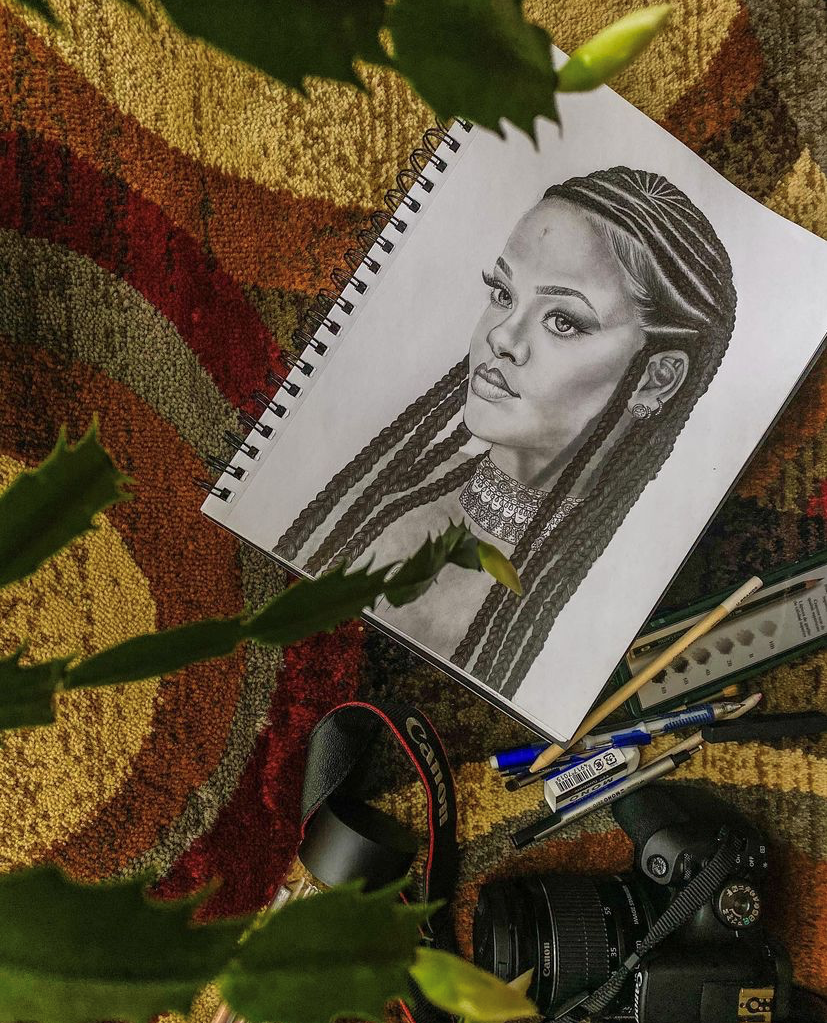 ---
What role do your believe the artist has in society?/how do you feel your artform has the power to benefit society/how do wish it would impact society?
Art plays a very significant role in the lives of creative minds that and connects through art.
Art is therapy, art is entertainment, art is historical and I feel society benefits from art and artists on a daily basis.
Fortunately, through modern technology and all these current media platforms, it is easier for us to showcase our creations and connect with others that share the same interest and are inspired by what we do.
---
Out of all your bodies of work which piece resonates with you most?
One of my first graphite pencil portraits that I did was of my mother, I worked on that piece one winter when I was in a bad place wishing she was around at the time. I spent a lot of time on that drawing, it was really a very therapeutic process for me and that piece will just always be sentimental to me.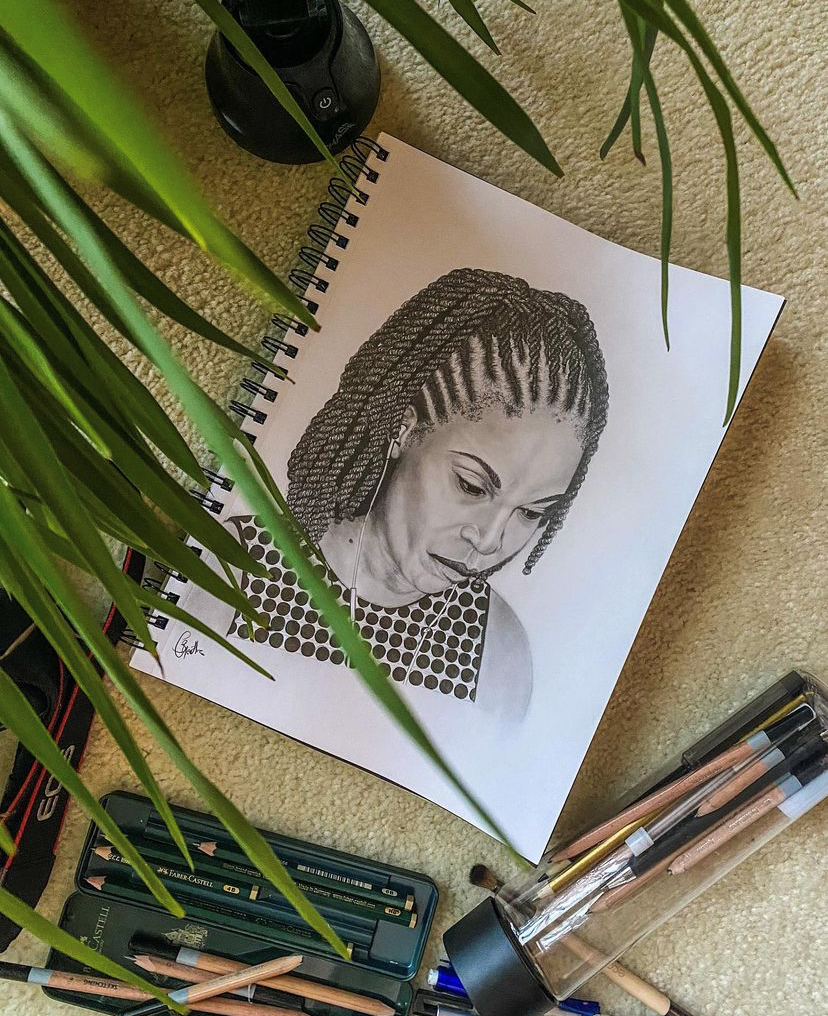 ---
Where do you see yourself going?
No one knows what opportunities lay ahead for me; but I will continue working hard in hopes of becoming more established in the arts and pursuing a career that allows me to do what I genuinely love to.
---
BY WHAT TERMS DO YOU MEASURE SUCCESS OR PERFECTION? WHEN DO YOU FEEL LIKE YOU CAN SAY THAT YOUR WORK IS FINISHED AND READY TO BE EXPERIENCED BY OTHERS?
As a self taught artist, I can say perfection is what we aim for, but success is making mistakes and learning from them.
I always aim to achieve precision each time I start a new drawing, because I learn something new each time and I feel the ultimate satisfaction when all my details are on point and I get that confidence boost and success in the excitement of getting ready to share just that with everyone.
Therefore success for me is the accomplishment of anything that I have ever doubted myself of.
---
WHAT ELEMENTS OF YOUR CAREER BRING YOU THE MOST STRESS and how do you deal with it?
Time is one of my biggest struggles, often times I don't get the chance to work on anything for months and when I do, I sometimes lack the energy and motivation to even create.
But I keep pushing myself and working on finding balance between daily life and keeping up with my drawings.
---
THE WORD "UBUNTU" MEANS "I
AM BECAUSE WE ARE"; HOW HAVE YOU SEEN THAT REFLECTED IN YOUR OWN LIFE?
Reflecting on encounters with my family, friends and relationships, I am molded by the influence and emotions of each individual that has been in my life.
---
WHAT IS SOME ADVICE THAT YOU WOULD GIVE TO ANYONE WHO IS TRYING TO WALK THE SAME PATH AS YOU?
Do not lose passion or feel discouraged, be confident and patient, because that feeling of satisfaction hits differently when you look at the progress you have made and what you have accomplished.
---
What is something(qoute or reminder) that you live by?
"The Only Way That We Can Live Is If We Grow. The Only Way We Can Grow Is If We Change. The Only Way We Can Change Is If We Learn. The Only Way We Can Learn Is If We Are Exposed. And The Only Way That We Are Exposed Is If We Throw Ourselves Into The Open." – C. Joybell
---
"Perfection is what we aim for, but success is making mistakes and learning from them. "
~ Barri Gentles