The Ubuntu Visual Arts Grant at the St.Andrew High School for Girls was presented to recipient Kristen Irons.
Kristen Irons is a Grade 13 student at the St. Andrew High School for Girls located in Kingston, Jamaica and was appointed as a prefect and also to the executive body for both the Environmental Club and the Art Society. She aspires to become an architect and her biggest achievement so far was being accepted into the competitive Caribbean School of Architecture. In her submission "Spying on Mommy", Kristen has embarked on a journey of using her art to document her early years and shared on of her pieces with us.
In Kristen's own words:
"This art piece speaks to me more than my others as it depicts my earliest memory as a toddler and the moment is still distinct and clear. Articles have shown (Shinskey, 2021) that most of us cannot remember experiences from the first three to four years of our lives and tend to recall very little. As a result I was I was very grateful to have remembered a snippet of a memory before I could even form proper sentences. So this piece was the beginning of a series I wanted to start which were my early childhood memories (before 5 years).

In this art piece, I was around three years old and my mom was pregnant with my brother. Leading up to this moment, we were hanging out downstairs in the living room. This is where she decided to go upstairs and took small steps going up and I followed quietly behind her. She then took a right turn and headed into the guest room, sat on the bed and rubbed her stomach as she caught her breath. What makes this art piece stand out is how perspective is used. It is done in a way where we are seeing from a low angle, which invites the audience [to view it from a unique angle making them feel small, mirroring my state at the time]. My aim to was to mimic how I felt at that time and give viewers the opportunity to step into the shoes of my younger self."
We encourage young artists like Kristen to continue to make their mark on the world, using their art to tell visual stories and to connect people. We wish her nothing but continued success in her creative journey!!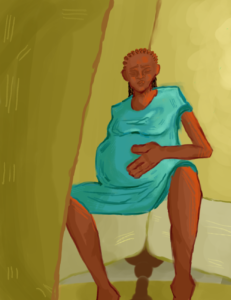 ---
More work from Kristen below (follow her on Instagram to see more of her work ( @tenb0nes )